Has your e-commerce business outgrown your dispatch system?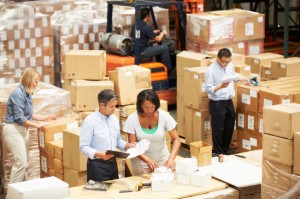 Are you looking for someone to take care of all of your dispatch needs? Perhaps you're running a successful e-commerce site or experiencing growing sales on eBay or Amazon. Is it time that you began to consider using an order fulfilment company to get your products dispatched to your UK based or Europe based customers?
At AFM we can store your products at a much closer distance to your final customer.  We can then can pick and pack and distribute them for you saving you time and money and providing your customers with next day delivery of their orders.
By adding some simple integration, the whole process can be made seamless allowing us to get the data we require to process and ship your orders and to pass back to you all shipping data you will need.
We also have the option to generate and print your bespoke dispatch notes in colour or black and white adding value to your business brand and improving your customer experience.
Call us today on 0845 450 7500 and let us take care of your orders.
This entry was posted onWednesday, May 21st, 2014 at 9:05 am and is filed under News. You can follow any responses to this entry through the RSS 2.0 feed. You can leave a response, or trackback from your own site. Both comments and pings are currently closed.